I am a huge fan of Melaine over at My Sweet Savannah. The girl is crazy crafty- something that I attempt, but do not a have natural gift for.
But I can copy like nobody's business ;)
Last week Melaine created this:
I know. Perfection! You can go
here
to read how she did hers.
Here is how I transformed a dress form into Eloise- The Dressed Up Dress Form:
First I started with a tattered and naked dress form...
I made her a little blurry for modesty...
Then I took some old nautical charts and cut strips about 12 in long and ? wide. I didn't use a paper cutter or get precise with it- I just cut strips.
It takes lots, and lots, and lots. and lots, and looooottttsssss of rolls. I used three HUGE nautical maps to make her dress.
Then you begin to glue the rolls onto the dress form starting at the waist. Who has a waist that really looks like this?
I glued some of the rolls going up....and some facing down. Just to give it some differentiation...
Continue glueing....and glueing....and glueing...and glueing....you get the idea!
Then it is time to address the bodice of your girl...Begin by glueing strips of your paper in random patterns like so...
When you are all finished she will look like this...
Also, she might be smiling a little ;)
Once she is completely covered it is time to break out the modge podge!
#potentialsuperstickymess
#tactiledefensive
Once the modge podge is dry, you can add a ribbon to hide the seam between the skirting and the bodice. I opted for burlap ribbon since she is a bit on the nautical/beachy side.
I added a bit of an embellishment in the form of a burlap rosette (that I did NOT make- that is super crafty beyond my ability- but I can operate a glue gun!)
In the middle of the rosette I added a little birds nest. Not sure why- I just think it needed a little springy touch.
I have another dress form and some vintage sheet music that I am going to use. I love the blogging world- so much inspiration out there and wonderful people to copy off of share it with!
Happy Monday :)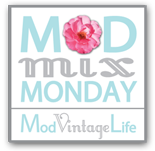 Linked up at Jennifer Rizzo's fabulous creative party!